Networking Opportunities
Whether it's engaging with fellow marketers over a cocktail at our Cocktail Receptions, or picking the brains of some of the industry's brightest and best thought leaders during our Networking Breaks, DigiMarCon Spain 2023 provides ample opportunities to grow relationships and build opportunities.
Here is a breakdown of some networking opportunities you can expect to experience at DigiMarCon Spain 2023:
Welcome Cocktail Reception
September 7: 5:15pm – 7:15pm, Eclipse South (26th Floor)
To top off a fantastic day of learning and networking, kick back and relax at the Welcome Cocktail Reception in the Eclipse South (26th Floor) at the W Barcelona Hotel. The Welcome Cocktail Reception is the perfect place to mingle with your fellow digital marketing peers, industry thought-leaders and the DigiMarCon crew before the event revs into high gear on Friday.
AM/PM Refreshment Breaks & Luncheons
September 7 – 8: Dining Hall
Structured networking before and after general sessions and master classes, including AM/PM Refreshment Breaks and Luncheons. You're provided scheduled daytime opportunities to get to know the people you connect with via social networks—up close and personal. No need to skip presentations to network; we built these breaks into the schedule.
Farewell Cocktail Reception
September 8: 3:30pm – 5:00pm, Extreme Wow Cabana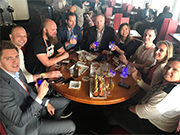 Before heading back to the office to implement all of the great new strategies and tactics you've learned, to top off a fantastic conference of learning and networking, kick back and relax at the Farewell Cocktail Reception at the Extreme Wow Cabana in the W Barcelona Hotel. Share takeaways and stories with industry colleagues, speakers and the DigiMarCon team over a glass or two. After an intense couple of days of learning and networking, what better way is there to wind down?